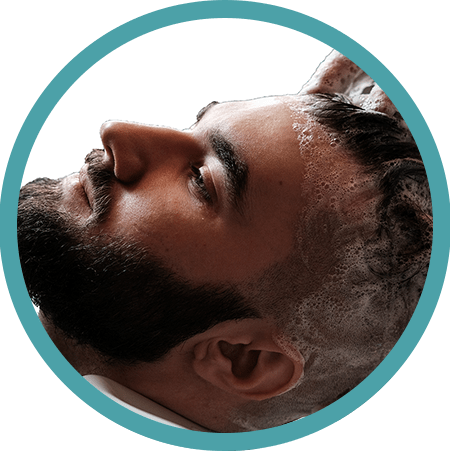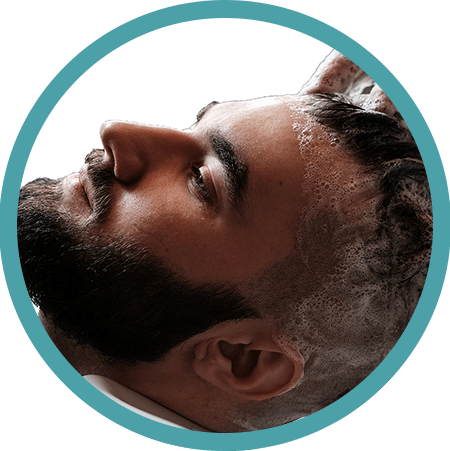 Your scalp and hair. Two distinct elements, having an impact on each other but requiring different care. The scalp is the continuity of your skin, it can also be dry or greasy. There can sometimes be dandruff as well as several skin-related pathologies such as psoriasis etc. As for the hair, they can be in good condition, brittle, frizzy, dry, fine etc. The condition of your scalp has a direct influence on the quality of your hair.
In collaboration with LA BIOSTHETIQUE's stem cell products, I have created treatments that will target the specific condition of your scalp while caring for your hair.
A scalp analysis will determine the condition and skin type. A measurement of sebum levels and a dandruff check will determine the appropriate care. The treatments are suitable and adapted to each client.
Scalp care
Dandruff can be a challenge to control as they often reappear, requiring constant use of specific products.  The goal of this treatment is to stop the reappearance of dandruff by slowing down the fungus that causes them.
With active ingredients containing antifungal complex, Zinc, pepper seeds, chestnut, liquorice root and caffeine to also combat itchiness and relieve irritated skin.
DANDRUFF TREATMENT - 40$
The treatment begins with an exfoliation to lift up any dandruff buildup, allowing the skin to properly breath.  A shampoo removes deposits left in the hair and an anti-dandruff lotion is applied to maximize the effectiveness of the results.  A luxurious head, scalp and neck massage will ensure a well-being and absolute comfort!
45 MINUTES
SCALP SCRUB - 20$
The scalp scrub is an exfoliation of the scalp that removes all product build up, dead skin cells and excess sebum.  Following the same principles of a facial, an exfoliation is a deep cleansing of the skin/scalp.  It gently purifies and normalizes the skin.  Ideal even for sensitive scalp.  A great seasonal cleanup for your scalp!
20 MINUTES
Hair care
Dating many centuries back and from different cultures, oils dedicated to the care of skin and hair have always been highly valued for their effectiveness.  In this age of high technology, with very elaborate formulas, we have rediscovered these oils, which are now experiencing a renaissance.  The new OIL THERAPY is an intense treatment.  With its natural oils and nourishing balms, this in-depth treatment restores the nutrition and hydration essential to maintaining healthy hair.  Vitality, flexibility and natural strength are restored.
OIL THÉRAPIE - 35$
During this special scalp and hair treatment, you will discover the benefits of aromatherapy that will be chosen according to your skin type.  Essential oils soothe the scalp while the relaxing massage activates the micro circulation and oxygenates the hair properly.  Allow yourself to get carried away by natural oils, nourishing balms, keratin and a luxurious scalp and hair massage during this scalp and hair treatment.
40 MINUTES